Visit the Pendragons on Facebook  or Instagram!!
Welcome to the Pendragons dragon boat racing team.
We are a mixed-competitive team with members of all ages and all levels of experience. Our main goal is to always strive to progress in our level of competitiveness. We are proud to offer a venue for those who wish to hone their dragon boat skills, and for those who wish to pursue a challenging, team-oriented, and rewarding sport.
Our team usually participates in four dragon boat festivals each season, traveling throughout southwestern Ontario. After several years of partnering with other clubs to form teams to compete at Canadian Nationals and Club Crew World Championships in 2019 Pendragons participated at Canadian Nationals under the Pendragons banner in the Senior B Women's and Mixed Divisions and we're recruiting to expand into additional divisions in the future.
During the paddling season (early spring – late fall) we practice Tuesday and Thursday from 6:30-7:30 pm and on Saturday mornings from 8-9 am.
During the paddling season there is also the opportunity to participate in additional training camps. During the winter team members train on their own, or participate in the dry-land training sessions at Revolution Conditioning.
Looking for a healthy, fun, and team oriented sport. Look no further than dragon boating and the Pendragons. The adrenaline felt by 20 people racing together in a single boat to cross that finish line is truly amazing.
For more information or to register for 2 free paddling sessions, please contact us at: pendragons@londondragonboat.com
Paddles Up!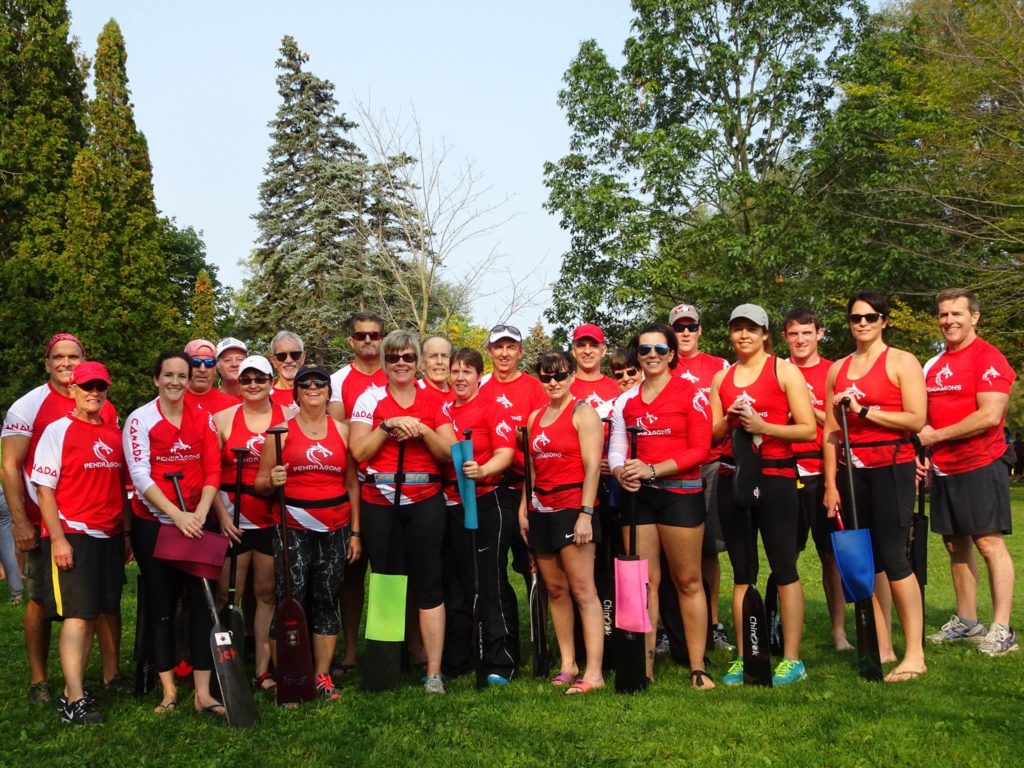 2022 Results
Fanshawe Dragon Boat Festival
1st place A Division
2019 Results
Fanshawe Dragon Boat Festival
1st place A Division
Stratford Dragon Boat Festival
2nd place A Division 500m
1st place A Division 2000m
2018 Results
Fanshawe Dragon Boat Festival
1st place A Division
Stratford Dragon Boat Festival
1st place A Division 500m
1st place A Division 2000m
2017 Results
Fanshawe Dragon Boat Festival
1st place A Division
Woodstock Dragon Boat Festival
3rd place A Division 500m
2nd place A Division 2000m
Stratford Dragon Boat Festival
2nd place A Division 500m
1st place A Division 2000m
Rose Regatta
Las Vegas, NV
Pendragons with members from Blades, Waves, Rowbust and CSDC.
3rd place A Division